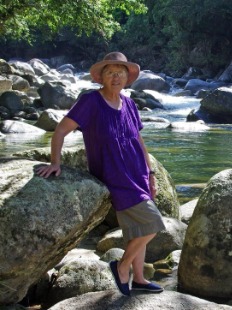 of Kanoona, Bega and formerly Yowrie via Cobargo
Beloved wife of Bill (dec'd). Loving mother and mother-in-law of Damon Lewis & Bronwen Scully (Gundaroo) and Ancret & Michael (dec'd) Shipton (Kanoona). Devoted 'Granby' of Tulley and Freya Lewis and 'Bush Nan' of Kassandra, Mitchell and Ava.
The funeral for the late Mrs Naomi Lewis will be held in the Clavering Park Crematorium Chapel, Wolumla at 10:00a.m., Friday 6th October, 2023.
Relatives and friends are warmly invited to attend.
In lieu of flowers, donations to The Fred Hollows Foundation would be appreciated and can be made via the following link – https://fundraise.hollows.org/fundraisers/Naomi
Service now available to stream
Date & Time
10:00 am, Fri 6 October 2023
Venue
Clavering Park Memorial Gardens and Crematorium, 428 Candelo-Wolumla Rd, Wolumla, New South Wales 2550, AU
Funeral Director
John R Whyman Funeral Services
Dear Damon and Ancret, this may be too late for you to receive it but I've been thinking of your mum so much lately. Somehow we lost touch.
I used to take you for walks in Ibiza Damon, you liked to have pretend conversations in the phone booth.
Ancret, I never met you but I have pictures of both you in my album.
Your parents were very special to me and I spent days with them in the Ibiza farmhouse.
I have a lovely painting of vegetables that Naomi painted on a beach-found chair seat and sent to me in Canada as a gift. I treasure it.
My best wishes to you both and to your loved ones
Karen (Vieira) Dube