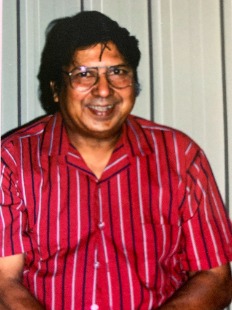 George "Guru" Parsad Bhiki
Passed away peacefully surrounded by his loving family on Thursday 2nd November 2023. Beloved husband of Debby(dec). Loved father of Peter, Cathy, Paul(dec) and Jane(dec). Father-in-law of Shak. Grandfather of 5, brother of 6, brother-in-law of 8 and Uncle. George will be sadly missed by his loving family and dear friends here in Australia and overseas in Canada, USA, New Zealand, Fiji and the Solomon Islands.
Aged 87 Years
God has you in his keeping, we have you in our hearts.
Family and friends are invited to attend George's funeral service to be held at the West  Chapel, Pinegrove Memorial Park, Kington Street Minchinbury on Tuesday, 14th November 2023 at 12.30pm.
Please join us for refreshments after the service at Hog's Breath Café, Ransley Street Penrith from 2.15pm onwards.
Service now available to stream
Date & Time
12:30 pm, Tue 14 November 2023
Venue
West Chapel, Pinegrove Memorial Park, Kington St, Minchinbury, New South Wales 2770, AU
Funeral Director
Easy Funerals
Life brings smiles, tears and memories, but remember the tears dry, the smiles fade, but the memories last forever.

We thank you dad for your guidance and support.
Teaching us good values,
to work hard and to appreciate the simple things in life,
to love and forgive.
You did your best to provide and being there for your family.
Most of all thank you for loving us.
We love you dad, we say goodbye.
R.I.P dad, love always, Cathy & family Shak, Feenu & Sohail ❤️❤️❤️❤️

Guru uncle , you are gone, but you will never be forgotten. We may have not seen each other in ears but your memory will live within me forever.

Suman (abbotsford,canada

Well brother you have gone n at better the place we will miss you and mother was waiting for you well brother rip love you in my heart Mani Tatoo in Canada n x 18 gulags street

Guru bhae you are gone but not forgotten, you will be missed but you are in a better place and free of all pain and suffering. You are united with the loved ones those left this world before you. May your Soul Rest in Paradise. 🙏.