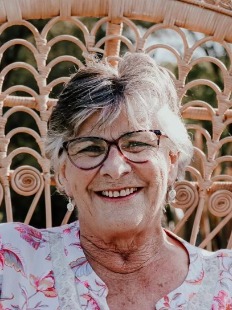 The funeral for Carol will be held in the Clavering Park Crematorium Chapel, Wolumla at 10.00a.m., Monday 1st May, 2023. Please wear a touch of green, Carol's favourite colour.
Relatives and friends are warmly invited to attend.
Date & Time
10:00 am, Mon 1 May 2023
Venue
Clavering Park Memorial Gardens and Crematorium, 428 Candelo-Wolumla Rd, Wolumla, New South Wales 2550, AU
Funeral Director
John R Whyman Funeral Services
Margaret Davis (née Bowd)

My sincerest sympathies to Carol's family. Sadly, another Meringo Street kid passes away from us. May Carol Rest In Peace.

Carol we have known each other since we were kids you ,Lizzie (my sister )and the crew you all hung around with The party's we used to have at home everybody laughing and you were the loudest but we loved you anyway lol you were so proud of your boys and their family's mate I'm going to miss you so much we had quiet a few good times over the years

REST EASY My Friend

I have known Carol along with my sister Sheryl since I was 5 years old moving into Meringo Street.
We use to take turns riding her bike around the block until dark, then when she had Deon we use to take him for walks to the park and to the corner shop for treats. Deon used to love being carried everywhere. We have had some amazing memories.
Caro was a beautiful caring and kind person who would always help anyone who was in need.
Carol will be sadly missed, sorry we won't be able to make the funeral but will be thinking of her in our hearts. ❤️

Carol was such a great person.
My parents truly liked and respected Carol and always spoke of her fondly, as one of their Bega West neighbours who elevated the neighbourhood.
Carol was decent and always so bright and fun to chat with when our paths crossed – right up until I left Bega in 2018.
Such a loss for Carol's loved ones and to that community in desperate need of more just like her.