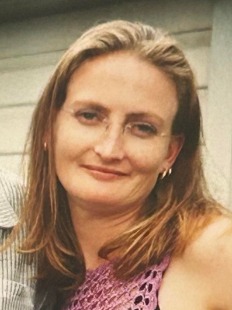 Taken from us suddenly on Monday 9th of October 2023. Beloved wife of Tally (Mihajlo). Dearly loved mother of Kacey and Breanna. Much loved youngest sister of the Hennessy clan. Sabina will be sadly missed by her loving family and many dear friends.
Aged 46 Years
Our memories of you will be treasured forever
Requiem Mass for the repose of Sabina's soul will be celebrated in St Francis Xavier's Cathedral, Harbour Street Wollongong on Monday 23rd of October 2023 at 12pm. Following the Mass her funeral will proceed to Wollongong Lawn Cemetery, Wyllie Road Kembla Grange.
Date & Time
12:00 pm, Mon 23 October 2023
Venue
St Francis Xavier's Cathedral, Harbour St, Wollongong, New South Wales 2500, AU
Funeral Director
H.Parsons Funerals
Please accept our deepest condolences for your loss of your lovely sister, wife and mother.
Caroline Coe and Tony Grant.

A huge loss to so many. Sincere condolences
Donna Wood and family

Sharon Freestone (née Duggen )

We are all so saddened in hearing the loss of little Sabina words don't seem enough.You will always be remembered .with love The Duggen Family.

Katrina Boeyen
Deepest condolences to all the family for there loss
Taken from you far to young
Katrina and Juliana Boeyen

Sincere condolences to all the family a huge loss to all. She will be very sadly missed.

Just devastating news. My thoughts and prayers are with the family.

Words will never be enough to describe the hole that Bean's passing has left. With love and prayers Mike, Margot and fam. ❤️

deepest condolences to you all – I am now living in Canada so I'd like to convey my fond memories of Sabina… as I write, there are tears in my eyes… I'm listening to ABBA one of the many things Sabina and I have in common. Always one to have a laugh with me at work & talk about life, always upbeat and so positive about life- I loved reading the Phrases she'd write on our board at work. A person who really loves her Family- Family meant everything to Sabina. A wonderful Wife and Mother… Thank you for sharing the times we had… You will be sadly missed, lovely Lady 🌻❤️

Paul and Claire Robertson

So sad and sending lots of love and deepest sympathy to the whole family.
Paul and Claire Robertson

Such a sad time for you all as you farewell your sister Sabina. May the many wonderful memories bring strength to you Gabrielle and extended family.

Much love to the family with the deepest condolences on the loss of Sabina, mother, wife, sister and great friend to all who knew her. Taken too soon. Fond memories I will hold of our friendship. RIP 🙏

Sending our deepest condolences to all on the loss of a beautiful soul, prayers and thoughts to family and friends .