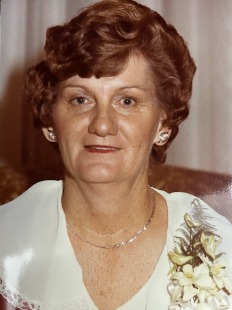 Passed away peacefully on Sunday 5th November 2023.  Beloved wife of the late  Bonnie.  Dearly loved mother and mother-in-law of Kim and Michelle, Sharyn and Mark, Donna and Bob.  Much loved Nanna of Jye and Laura, Jess and Boy, Amanda, Luke and Ruby, Brett, Emma and Aaron and her 10 great grandchildren.  Loved sister of Evelyn.  Margaret will be sadly missed by her loving family and many dear friends.
Aged 87 Years
Forever in our hearts
Reunited with Bonnie
 Relatives and friends are invited to attend Margaret's funeral service to be held at H Parsons Funeral Home, 278 Princes Highway Bulli on Monday, 13th November 2023 at 12pm. Following the service her funeral will proceed to Bulli Cemetery, Carrington Street, Bulli.
Service now available to stream
Date & Time
12:00 pm, Mon 13 November 2023
Venue
H Parsons Funeral Home, 278 Princes Hwy, Bulli, New South Wales 2516, AU
Funeral Director
H.Parsons Funerals
My beautiful nana I wouldn't even know where to start. We have had so many joyful experiences together from our trip to Melbourne where we landed in the cock pit and you were scared you'd press a button and eject us, to me hooning you around in a wheelchair in the Figtree shops and loading you up like a trolley. You often talked about these times, with such humor. Gosh we giggled. You've loved me through all of life's ups and downs and always had faith and positivity. I know how proud you were of me, and me of you. You overcome so many health obstacles in your lifetime, continually surprising us all. I thought you were invincible Nana. Im so sad you didn't get to hug your great grandbaby Fox , or meet my husband Boy in person – but im grateful you were still savvy until you peacefully passed away, using WhatsApp to message and video call with us, to share in our joy, special moments and laughter even though we are so far away. We will cherish those times forever… right up until your last message… "Sorry rlng you tomorrow… fox is so cute love you all naña💞" Even though tomorrow never came this time around – we know you've been reunited back with Pa into his loving arms… We will love you and miss you forever nana. Give pa the secret handshake from me.
Jess, Boy & Fox 🙏