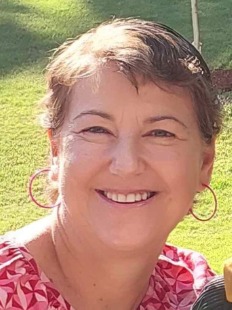 Passed away peacefully surrounded by loving family on Saturday, 7th of October 2023. Beloved wife of Robert who tragically passed in 2018, and adored mother of Grace, Elliot, Ethan, and Kurtis. Dearly loved daughter of Val and partner Jeff, Malcolm and partner Vera (dec). Treasured sister and sister-in-law of Graeme and Sonia, David, Angelique and Paul, Melody, Andrew and Melinda. Irreplaceable aunt to her many nieces and nephews. Kath will be sadly missed by her loving family and many dear friends.
 Aged 54 Years
Forever in our Hearts
Relatives and friends are invited to attend Kath's funeral service to be held at H Parsons Funeral Home, 278 Princes Highway Bulli on Tuesday, 17th of October 2023 at 2.30pm.
Service now available to stream
Date & Time
2:30 pm, Tue 17 October 2023
Venue
H Parsons Funeral Home, 278 Princes Hwy, Bulli, New South Wales 2516, AU
Funeral Director
H.Parsons Funerals
My neice Kathy,was a beautiful woman inside and out ,who will never be forgotten

I remember my niece Kathy as fun with a great personality & a lovely smile
You will not be forgotten.. RIP xx 🙏

Our thoughts and prayers are with the whole family at this time.

Love your cousins Dan, Lillia and Tom based in Kuwait 🙏🏼🤲🏻

Sending our love and thoughts to the whole family, RIP Kathy.

Lynn, Chris, Joe, George and Amy. Xxxx

Kath – so kind, so loving, so generous. Always there for your kids and your community in Austi. Heartfelt condolences for your family. RIP Kath
David, Fiona, Daniel and Samara Jirsa ❤️

Dear Kath, I remember meeting you at the overseas terminal at Circular Quay when we both worked for Customs. You rode your bright green mountain bike to work and I knew you were someone I wanted to befriend. Smart, caring and principled- you became a welcome housemate on 3 occasions in the 1990's – Rose Bay, Berowra Waters and Glebe. We could only get to the house at Berowa by boat and if the engine didn't start we had to row the boat from house to shore. We enjoyed a holiday to Fraser Island and another to Thredbo with our workmates Jim John and Wayne.
.Then you met up with Robert and it was great to see you so happy together. I am sorry we lost contact over the years.
I send my deepest condolences to your family at this very sad time. Rest in peace Kath 💐

Kayleigh Bryant & Isabella

Sending condolences to the whole family. Rip Kathy xxx

Dear Cathy, even thought we haven't seen each other recently, you and your family have often been in our thoughts. Sending lots of love and hugs to you and the family. Sleep tight Angel. Love from your cousin Sammy and family, from England. Xx

Dear Kathy, even though we haven't seen each other recently, you and your family have been in our thoughts. Sending lots of love and hugs to you and the whole family. Sleep tight Angel. Love from your cosuin Sammy and her family, over seas from England. Xx

Sending love and condolences to all Kaths friends and family at this very sad time.
R.I.P Kath.
Your aunt Marianne.

Dear Kath
Will fondly remember our Austi swims and Xmas holiday pool crawls up and down the coast. Kath always had time for others. Caring, kind and oh so funny, miss you my friend. Condolences, thinking of you all.
Nes and fam xx

Sending love to all Kathy's family.
Kathy was an amazing friend and I will miss her so much. Love Elaine, Justin, Liam and Emma

Kath was a loving and caring sister in-law and Aunty who was never short of a hug and kiss . I will always treasure the memories we have from our visits to Austinmere, which feel like another life time ago . I remember how beautiful you looked on your wedding day and I know you are finally reunited with Rob love you Kath
Melinda Andrew Cyrus and Jj

Such a beautiful service. My thoughts are with you all. Xx
Still so hard to take in.
Love you all 💔💔💔

Heart felt condolences 💔 u will be very missed! Thoughts are with all the family, rest in peace 🙏, love your cousin tanya & family ❤️❤️xx

Beautiful service for a beautiful woman.
R.I.P Kathy. Love Karen and Dimitri xx

Martin and Katherine Farrell

We were very sad to hear the news about Kathy.
She was lovely and joyful every time we met, and her and Robert were always very welcoming.
Great memories don't fade. X

Sending love to you all.
RIP Kathy
Lots of love from your cousin Janine (Leatherby) and family xxx

Glenda and I lost our beloved pal & Customs colleague – it's doubtful that she shuffled off this mortal coil, she was always so full on and intense.
We last saw her in July and were glad to find her as her usual self, smart witty, intelligent despite ongoing health issues
VALE & RIP Kath.