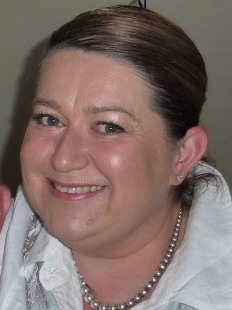 Passed away unexpectedly while travelling the world on Sunday 24th September 2023.  Beloved daughter of Warren and Jenny.  Dearly loved sister and sister-in-law of Katrina and Peter, Brad and Pauline.  Cherished Aunty of Sophie, Darcy, Lachlan, and Wally.  Julie will be sadly missed by her loving family and many dear friends.
Aged 50 Years
We will miss your smiling face
A special person no one can replace
Relatives and friends are kindly invited to attend a funeral service for Julie to be held at H Parsons Funeral Home, 34 Belmore Street, Wollongong on Friday 20th October 2023 at 12pm.
Service now available to stream
Date & Time
12:00 pm, Fri 20 October 2023
Venue
H Parsons Funeral Home, AU
Funeral Director
H.Parsons Funerals
Jennie and Steve Gilliver

My goodness. When we think of Julie all we think of is her smile, Her down to earth manner and zest for life.
We were mortified to hear of Julie's passing. She is one of the good ones.
Julie minded our children zillions of years ago. She always bought 'a craft lesson' and our girls adored her.
She will be sadly missed not only by her family but the many other people that she impacted throughout the years.
Jennie and Steve Gilliver.

Narelle , Pet, Garry and Aimee

'Grief is the price we pay for love.'
Julie was well-loved by so many people … she was a beautiful positive soul and will be very sadly missed. We love you all. Xx
Pet, Garry, Narelle, Blake , Shannon, Aimee and Dean

I have such wonderful memories of Julie. It was always a treat when she would babysat us. She always came bearing a basket of crafty activities and was always such fun.

I'm so sorry to you all and send lots of love as you find a way to navigate a world without your daughter, sister, Aunty and friend. May beautiful Julie rest in her peace.

Brooke Murphy ( Gilliver) xx

Julie will always be remembered for her big heart, love of adventure and her infectious personality. She was a character, who never failed to make those around her laugh. Sending so much love during this sad time.

Love,
B. xx

I am sorry that I won't be there to celebrate your life. I will forever remember you fondly and our renditions of 'Otto Titsling' in the middle of the ICU ward. You were fun… You were loved…. You will be missed.
Love Bridie Blake

The wonderful thing about nursing- you cross paths with the wonderful people. Julz was here in Griffith during a challenging time of COVID and I will be always grateful for Julz being part of our team. We had both great laughs and deep discussions. What was always clear was her love for her family and friends!! My heartfelt condolences to Julie's family and friends. Rest in peace my friend xx

I'm so sorry to hear this. I will be tuning in from Ireland. I won't forget the kindness Jules showed me during my time in Australia 2018. Such a friendly person. And a blast to spend time with. Sending love to friends and family at this time. RIP x

So sorry a bright lover of life has left your world Jenny & Warren. Our heartfelt condolences to all Julie's family & friends. Will tune in on Friday…if I can't do the journey to the Gong.

We will always remember you Jules, your fun, laughter and wonderful personality left behind with us. You have gone from many lives too soon but we are heartened that you were enjoying yourself travelling ,one of the things you loved doing..
Our thoughts, at this sad time are with your family and friends.
Faye , Patrick and family.

So sorry to hear this sad news. Our thoughts are with you Jenny and Warren and all Julie's family and friends. Too young. RIP Julie.

Jenny, Warren, Katrina, Brad and families; The Tasman will be between us but we'll be with you on Friday to grieve with you and to celebrate Julie's life with you. What a joyous blessing she has been to you and shall continue to be in all you have shared together as a beautiful, loving family.
The pain is forever because Love lasts forever.
Loloma Levu ❤️❤️

Dear Julie. You were one in a million. I will always remember how you could blend frivolity with the very serious ICU business, you were an absolute gem and the world is a poorer place without you in it . Pretty sure heaven is rocking. Xxx

Jules you shine all the colours of the world and brought all the fun and sass to our little unit in Taree. All you visits brought a bit of rough truthfulness and humour and light to our day. You will be missed but I'm sure no one will ever be able to forget you or your voice. Our hearts go out to the family you left behind. 🌸

Dearest Jules,

From the moment we met, I knew that you lived and loved hard. Our friendship with Kate and Alex, has always held so much love. Young women, nurses, weddings, baby's and everything!!! We were there together.

There are no rarer moments than having a great friend deliver your baby. Thankyou for bringing William safely into the world- I know you haven't seen him for a some time, but he is a beautiful man, you would be so proud! Please look after him from where you are.

Adam and I are so sorry we are not there today to say our goodbye. We will always hold a place in our hearts just for you. We have, and always will love you.

Goodbye darling XXX

Leisa

Dear Jules,
The short life you lived was to the fullest. You bought joy to all you touched. You made me laugh from the first day we met. You will be missed so much especially on our "anniversary" and of course when the boys win. My condolences to the family left behind🌸
Forever young💋

My darling Aunty Jules,
My heart is broken and trying to come to terms with our loss. My comfort is knowing you were in your happy place, exploring the world.
I am so incredibly honoured to have had you in my life for the past 27 years and will always treasure our very dear friendship.
The memories, the stories, the hilarity, will stay with me forever.
Such a ray of sunshine… thank you for bringing joy to my life, and so many others.
This world has a little less sparkle without you.
Wherever you are, I'm sure my Marci is by your side, laughing with you hysterically, and getting into mischief… with Suzi Quatro on high rotation!
Vale, my beautiful friend. You meant the world to me, and I love you to the moon and back. ❤️❤️❤️
Precious, xxx