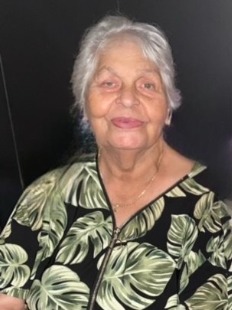 Beloved Wife of Victor (dec). Dearly loved Mum of Vicki (Dec), Ronald (Dec), Eileen and Elaine. Much cherished Grandmother and Great Grandmother.
Aged 80 years. 
Much Loved By Her Family & Loyal Friend To All Who Knew Her
Relatives and friends are invited to attend Iris's service to be held at All saints Anglican Church, Nowra NSW 2541 on Wednesday, 15th October 2023 at 11am.
Service now available to stream
Date & Time
11:00 am, Wed 15 November 2023
Venue
All Saints Anglican Church, Nowra, 70 Plunkett St, Nowra, New South Wales 2541, AU
Funeral Director
H.Parsons Funerals
From the Brown Family, Wreck Bay, our condolences to the Trindall & McLeod families. Aunty Iris and Wendy became the closest of friends on their dialysis journey together. They checked on each other just about every day over the last 5 years. Two close friends that passed on 3 weeks apart. RIP

Our sincere condolences to the family. Thoughts and prayers for you.
From the Meredith family through out the country, and the Neans from Caroona/ wahollow, and Quirindi.
Love to all . May you rest in peace my dear aunty, with the good lord.

Our sincere condolences to the family keeping you all in our thoughts and prayers as we send you all our love and prayers of strength ❤️ Thank you so much Aunty Iris for taking me under your wings and guiding me through my employment with the AMS in the OoHC section. I grew so much, observing your work and enjoyed my time within the team that you created…Your legacy lives on because of your dedication and commitment to the lives of all the Koori kids in care and the importance of maintaining their cultural identities and connections to culture and community. May you find eternal rest in Gods healing arms ❤️ Love from Sharon, Nook & family xx

Sending much love to Aunty Iris Family. Aunty Iris Always treated me Beautiful and my heart hurts for you all. xoxo
RIP Aunty Iris.❤️

Sending love and prayers down home💔💔💔
RIP AUNTY. IRIS

Our deepest condolences and sympathy to you all.
Sending love and healing prayers, we feel very blessed to have known you, Iris.
RIP beautiful angel, your work here is done.
Love from Lucia, Nathan and family xox

From Martin and Pauline Moody, we send our sincere and derp condolences to your family. To live in love and hope for a time of peace in the midst of your mourning.
May Iris McLeod Rest in Peace.