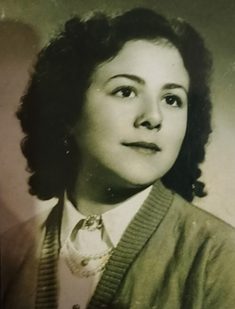 of Warilla
Passed away peacefully on Wednesday, 22nd of  June,  2022.  Beloved wife of the late Jeronimo.  Beloved mother and mother-in-law of Mari and Wayne, Jose, Rosi and Denis, Gabriel and Tanya.  Adored Grandmother of Melanie, Rhys, Kian, Daniel, Liana and loving great grandmother of Sofia.  Josefa will be sadly missed by her loving family and many dear friends.
Aged 87 Years
Forever in our hearts
 Relatives and friends are invited to attend Josefa's funeral service to be held at H.Parsons Funeral Home,  34 Belmore Street,  Wollongong on Saturday, 9th of July 2022 at 10am.
For those who are unable to attend you are invited to view Josefa's service via the link below.
Querida Pepita, llas esta en paz sin dolores, esta con tu marido, junto para siempre.
La mejor amiga que tenemos, siempre precopada de todos. Te queremos mucho, siempre en nuestra corazon. D.E.P. Con mucho carino Paco, Amparo Soto y Amparito xxxx

That's beautiful. Thanks so much Gerardo, Margarity and family xx

Thank you so much Amparito, Amparo and Paco – that brought a tear to my eye xx

Josefa
From the very 1st time we met your warm smile & golden voice echoed a calm beautiful soul to me.
When I came around you would pile the plate with food & say eat Omg even if I had already eaten I would stuff my face with your delicious food.
You loved me , cared for me, lucky me my brother Denis is part of your family.
Your light on earth has gone dim now heaven has the brightest light & a very loving soul looking down on your families.
We are blessed to have been a part of yours

Beautiful words Rods ,so heart felt ,love from the Franco family and your big brother

Rodney, that was so beautiful – it touched my heart. Thank you. She thought the world of you too xx