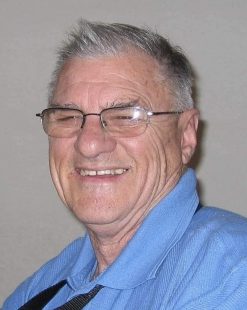 Passed away peacefully on Thursday, 16th February 2023. Beloved husband of the late Gaye. Dearly loved father and father-in-law of Shelley and Marno, Laurelle and Kane, Vanessa and Andrew. Cherished G'Dad of Jamii, Shaun, Codi, Amanda, Jessie, Harley, Abigail, Robert, Nathan, Andrew, Marcus and Great G' Dad of Dakota, Nixon, Oakley, Orion, and Alaska. Loved brother and brother in law of Lois and Ken, Viv and Laurie, Robyn and Neville. Bob will be sadly missed by his loving family and many dear friends.
Aged 82 Years
In God's Care
A life well lived
Relatives and friends are kindly invited to attend Bob's funeral service to be held at Rankins Funeral Home, 270 Cowper Street Warrawong on Thursday, 23rd February 2023 at 12noon.
Service now available to stream
Date & Time
12:00 pm, Thu 23 February 2023
Venue
Rankins Funeral Home, 270 Cowper St, Warrawong, New South Wales 2502, AU
Black and no sugar. Bob liked it straight, as were his conversations in the staffroom of Mechanical Engineers in the "golden" years at Wollongong TAFE. He had the gift of asking the right questions, and 'stirring the pot'. A gifted teacher, sax player & counsellor. Laughter was always the best medicine. Fond memories .. rip Bob Heaton.

Sad to say I missed Bob's funeral service by about a week. Bob was the kind of man who always remembered you. It would be about thirty years since I last saw Bob but Iam sure that, if ran into now, it would be as if our previous meeting was yesterday. I'm sure Bob would forgive me.
My fondest memory of Bob was a time when he was playing rugby, he (all 5 ft plus of him),
successfully tackled Harold Palmer (6 ft plus) and cheekily pressed the big fellow"s face into the dust as he stood up.

A top bloke with true integrity. Bob was a "salt of the earth" kind of guy, with a heart for God and people.