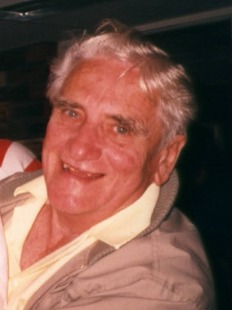 Aged 93 years
Just Gone
A fiery old bugger with a heart of gold
Alf was the beloved adversary and husband of Loreen (Bub). The unconditionally loving Dad of John and Lorraine, Brian, Gail and Bill Baxter, Alison and Doug Collins.
Selflessly doting and deeply loved Grandad of Trevor, Andrew, Craig, Tegan, Liam, Kathryn, Rochelle and their partners Wendy, Sammy, Andrew and Darren.  Great Grandad to Luke, Rylen, Aston, Caleb and Theo.
Brother to Norm (dec) his much loved little brother. Caring Uncle to many nieces and nephews.
Please come and celebrate the life and love of Alf on Friday, 24th March 2023 at 12 noon at H Parsons Funeral Home, 4 Princes Highway, Dapto.
Alf passed away peacefully surrounded by loved ones on Wednesday, 15th March 2023, in the care of the kindhearted staff at HammondCare Horsley. We would like to sincerely thank all the staff there, but particularly the carers in the Nolan Cottage who showed incredible compassion, care and understanding day after day to Alf and to us.  An extra special thank you to Haley, Greg, Emily, Ashlee & Agnes who contributed unbelievably to making Alf's decline bearable for our family.
Alf was always an active participant in the Labor Party and he had a strong unwavering passion for advocating for the working class. We know how strongly he would feel about these truly extraordinary carers going absolutely above and beyond their job description for far less than what they deserve to be paid, for the fundamentally important work they do for us all.
In lieu of flowers a donation box will be available at the service with donations going to Camp Quality Team Illawarra.
Service now available to stream
Date & Time
12:00 pm, Fri 24 March 2023
Venue
H Parsons Funeral Directors, 4 Princes Hwy, Dapto, New South Wales 2530, AU
Funeral Director
H.Parsons Funerals