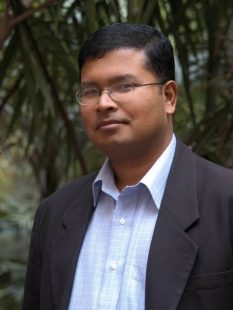 Professor Aditya Kumar Ghose
of University of Wollongong Australia, born in Shantiniketan, India
Passed away peacefully at home, surrounded by loving family, on Sunday 19th February 2023. Beloved husband of Hui-ling (Oli). Loving father of Aranya and Amartya. Cherished son of the late Professor Ajoy and Shyamali Ghose, and son-in-law of Zu-gang Wang and Shu-ying Lin. A loving brother of Anandorup. Aditya will be sadly missed by his loving family, friends, colleagues and students.
Aged 55 Years
Om Shanti Shanti Shanti
Family and friends are invited to attend Aditya's funeral service to be held in the Main Chapel, Wollongong Memorial Gardens, 176 Berkeley Road, Unanderra on Tuesday 28th of February 2023 at 10am for a 10:30am service.
A private cremation to be held by the family.

Service now available to stream
Date & Time
10:00 am, Tue 28 February 2023
Venue
Wollongong Memorial Gardens, 176 Berkeley Rd, Unanderra, New South Wales 2526, AU
Funeral Director
Easy Funerals
Ravi, Shalini and Precious Anand

It has always been a pleasure to be in your company. You will be deeply missed. May your soul Rest In Peace. Om Shanti Shanti Shanti.

So sad and shocking news. Always enjoyed his company and chats, especially when trying to link us all back to our ancestral home. Will be solely missed, may his soul rest in peace

From UOW former professor Robin Chowdhury:
I joined the live stream of the funeral function of Aditya Ghosh as I could not attend in person.
May his soul Rest In Peace .
A sad loss of a person gone too soon.
A Day his passing I sent condolences to his wife who very graciously replied remembering our just two family meetings with them ( and Aditya's parents were here for the first family meeting)
This was many many years back .
Then a few years passed and we met again.His father was again visiting and he had old friendship with my colleague the Late Raghu Singh.

After that we had not met for many years .
However , only couple of months back , I saw Aditya and then we arranged to meet over coffee and had a a couple of hours together.
One could not have imagined he would be lost to all he loved and those who loved him and others who were his friends, all so soon.

Very sudden loss of such a relatively young person , husband and father , a great family. He had an illustrations career and more promise for the future.

My condolences to the family. I knew Aditya professionally through his association with the conceptual modeling community of the ER conference. I got to meet him several times at this conference over the years and he way always eager to chat, especially about his time in Canada. Aditya was Program Co-chair for the 2021 instalment of this conference when I was the conference chair. He was always cheerful and reliable in his work in that role and I grew to appreciate his dedication to the community. We will be recognizing his contributions to the community on the ER website in the coming weeks.

I just found out, what a loss of a great human being and sucha loss for AI research. WIll miss you Aditya.

Still can't believe it.. I had a chance to work with in a few research projects. He was imbued with a sense of calmness.

My deepest condolence to Aditya's family. God bless him.

Kind regards,
Mahdi

What a terrible loss.

I've just found out about this today from another colleague at UoW.

This is shocking and very sad.

I will miss you greatly, Aditya. Thanks for your mentoring and the opportunity to work with you.

My My heart felt condolences to the family.

Sincerely,
Nir