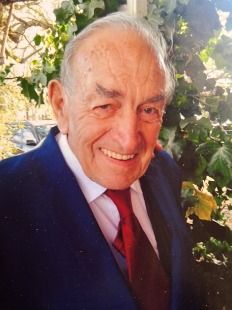 27.8.1929  –  30.10.2023
Beloved husband of June (dec'd).
Loving father and father-in-law to Phillip & Jenny, Jeffrey & Heather, Leigh & Brenda and Larry.
Devoted Pa to Kirsty, Joshua & Maddie, Richard, Daniel, Ben, Jake & Abbey, Ryleigh, Jacqui & Joel and Chris and to his great-grandchildren Catherine, Evelyn, Amelia, Lucas, Arlo and Maisy.
Fondly remembered brother and brother-in-law of Joe & Sylvia, Stewart & Rhonda, Nancy, Sarah & Leo, Francis & Danny (dec'd) and Edward & Sam.
The funeral for John will be held in the Clavering Park Crematorium Chapel, Wolumla at 2.00p.m., Friday 10th November, 2023 and burial will follow in the Wolumla Cemetery.
Relatives and friends are warmly invited to attend.
Service now available to stream
Date & Time
2:00 pm, Fri 10 November 2023
Venue
Clavering Park Memorial Gardens and Crematorium, 428 Candelo-Wolumla Rd, Wolumla, New South Wales 2550, AU
Funeral Director
John R Whyman Funeral Services
Condolences to all the family. RIP John

The Anderson family sends love and condolences to the wider family. We are all greatly saddened by the Jack's passing and grieve with you. Unable to attend in person we are joining with you in the celebration of Jack's life via livestream. Rest in peace dear cousin, may we be found as faithful to family connection as you were.