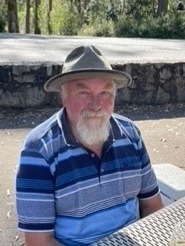 Beloved husband of Charmane. Loving father of Jon and Kurt. Much loved brother of Cliff, Glyn and Norman (dec'd).
The funeral for the late Mr Alan Head will be held in the Clavering Park Crematorium Chapel, Wolumla at 11.00a.m., Thursday 2nd November, 2023.
Relatives and friends are warmly invited to attend.
In lieu of flowers, donations in memory of Alan to the NSW Cancer Council would be appreciated and can be made on the day at the Chapel.
Date & Time
11:00 am, Thu 2 November 2023
Venue
Clavering Park Memorial Gardens and Crematorium, 428 Candelo-Wolumla Rd, Wolumla, New South Wales 2550, AU
Funeral Director
John R Whyman Funeral Services
So very sorry to hear of your Dad's passing Kurt and Jon.
In time, we hope your memories will give you comfort
Andrew and Maureeb

A big loss, he was a generous and kind bloke. Love to you all

We are so sorry to hear this very sad news. Alan was a generous, kind and funny guy and we had great times with him. We also send special greetings to Jon and Kurt.

Love from Bill and Gill

We are both very saddened to hear of Alan's passing. We have lost a lovely friend, a dear sweet man, one of life's true Gentle men.
Go gently onward dear friend.
Our thoughts and love are with Charmane, Jon and Kurt, we feel your loss xx

WOW! So sorry to read this today, Dear Charmaine, We are sorry that we didn't attend the service, you blokes were such a breath of fresh air! Hope you are OK ! We would love to catch up, please let us know if you would like us to contact you xxx