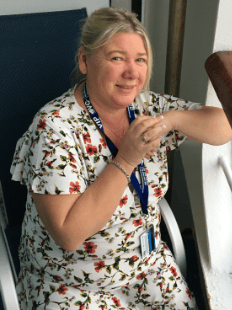 of Fairy Meadow, formerly of Dapto
Passed away peacefully with her husband and sister at her side on Thursday, 9th November 2023. Adored wife of Ondrej (his baby girl). Precious daughter of Mick and Leonie. Loved sister and sister-in-law of Sharon and Ronnie and aunty to Amy and Kristy. Loving step-mum to Jacob, Jayden, and Ben. Wynette will be sadly missed by her loving family and many dear friends.
Aged 55 years
Her amazing smile and gorgeous blue eyes will stay with us always 
Relatives and friends are invited to attend Wynette's funeral service, to be held at Wollongong City Memorial Gardens Main Chapel, Berkeley Road, Unanderra on Friday, 17th November 2023 at 10am.
Service now available to stream
Date & Time
10:00 am, Fri 17 November 2023
Venue
Wollongong City Memorial Gardens Main Chapel, Berkeley Rd, Unanderra, New South Wales 2526, AU
Funeral Director
H.Parsons Funerals
Wynette was a passionate and lovely lady who loved life. I had the privilege of working with her during my time with the Public Service Association and Wynette's commitment to her comrades in ADHC and to her Union were remarkable. I am deeply saddened to hear of her passing and send my sincere condolences to all her family

Michelle Butler (Zahli Butler's Aunty Shell)

I first met Wynette when my brother Luke started working for her at the Albion Park Fruit and vege shop. I quickly grew to know Wynette because her close friend Tericia ended up being my niece' Zahli's Nan. I would see her at family functions and Zahli's dance concerts. No matter where I saw Wynette she always went out of her way to hug me and say hello. She was an absolutely beautiful person inside and out and I know she will be missed. Sending my sympathies to Wynette's family and friends. ❤️

A wonderful colleague , and a genuine and caring friend.
A life of service to the most vulnerable in our community and a strong advocate for workers rights.
Wynette's bright and cheerful attitude was a great support for all the team over many years .
She will be fondly remembered and sadly missed.
Farewell and Rest in Peace, duty done.

A beautiful person who always had time for others. Wynette's passion for people she supported was admired, respected and revered. Many years and hours of her time spent on making a difference to many people's lives. A soul lost however one that will be remembered by those she touched. Rest in peace.

Where do I start. Her contagious laugh and smile, her care for both the people she looked after and the fellow workers she was working along side doing the caring. You can pick people by their interest in what others might need. She was one of them. I'm sorry for all that have lost her, far too young.