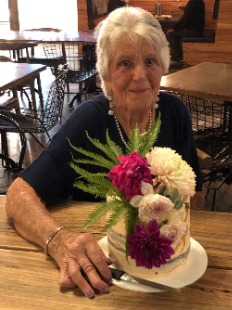 of Woonona formerly of Douglas Park
Passed away peacefully on Saturday 1st April, 2023.  Beloved wife of the late Errol.  Dearly loved mother of Brett, Craig, Rick (dec) and Luke.  Beloved Nan of her many grandchildren and great grandchildren.  Marlene will be sadly missed by her loving family and many dear friends.
Aged 81 Years
Happily reunited with Errol and Rick
Relatives and friends are invited to attend Marlene's funeral service to be held at St Mary's Towers Catholic Church,  415 Douglas Park Drive, Douglas Park on Thursday, 13th April 2023 at 11am.
Date & Time
11:00 am, Thu 13 April 2023
Venue
St Mary's Towers Catholic Church, 415 Douglas Park Dr, Douglas Park, New South Wales 2569, AU
Funeral Director
H.Parsons Funerals
To my Friend Marly, so glad we had a lovely chat a few weeks ago, Rest In Peace. Love Mary ❤️

A much loved and loving sister and sister in-law and Aunty ., it was so good to see you and chat if only for a while. We will miss you… until we meet again Larl …RIP sister 🙏🌹
Love from Garry, Tracey and family 💞💞💞

A much loved and loving sister and sister in-law and Aunty ., it was so good to see you and chat if only for a while. We will miss you… until we meet again Larl …RIP sister 🙏🌹
Love from Garry, ( brother)Tracey and family 💞💞💞

Wishing you peace, comfort, courage, and lots of love at this time of sorrow. My heart goes out to you at this difficult time. I am thinking of you and your family and sending caring thoughts your way to support you through this.

I'm sorry I didn't get to see Auntie Larl in recent years. My heart is full of love for all the family. I know from speaking with Auntie Del she was at peace, l hope it brings some comfort at this sad time.
Sending much love & tenderness xxoo