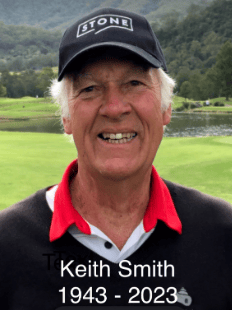 of Flinders, formerly of Bathurst
Passed away peacefully on Monday, 30th November 2023. Beloved husband of the late Judith. Dearly loved father and father-in-law of Troy and Jocelyn, Brady, Kirby and Leonie. Cherished Poppy of his grandchildren India, Zahara, Xavier, and Edie. Loved brother of Ross and beloved companion Carol. Keith will be sadly missed by his loving family and many dear friends. 
Aged 80 years
Forever in our Hearts 
Relatives and friends are invited to attend Keith's funeral service, to be held at H Parsons Funeral Home, 10 Woolworths Avenue, Warilla on Wednesday, 8th November 2023 at 12pm.
Wake details: 2pm@ The Link Shell Cove, Golf Drive, Shell Cove NSW 2529
Service now available to stream
Date & Time
12:00 pm, Wed 8 November 2023
Venue
H Parsons Funeral Home, Woolworths Ave, Warilla, New South Wales 2528, AU
Funeral Director
H.Parsons Funerals
Keith will be sadly missed a lovely man and a good friend.

Keith was my best man at our wedding in 1967. We met when we were at school in 1959. We have kept in contact over the years and both Margaret & Sid will miss him. He was always a very happy man and we had many lovely times together as our families grew up. Keith , Alan and me used to go surfing down the south coast on boards in January so we were away when our school and uni results came out. Keith actually saved my life at Cronulla beach when I lost my board and the waves started to take me out. Thanks Keith for a wonderful, lifelong friendship that has now ended. I will miss you but never forget you. Margaret remembers when the Jannali boys were led by their school captain Keith Smith to the train station as they passed by the Jannali Girls school. They all thought he was a real good looker and wolf whistled at him. May you rest in peacemate

Beautiful kind man with a great smile and always a hello..will miss him around the Links golf course..

Uncle Keith was one of a handful of family to make the trip to the UK for our wedding. It meant so much and it left a lasting impression on many that were there. Keith was the kind of guy that always left a lasting impression. We remember you fondly uncle Keith.

Andy Barbara Rachmaninoff and family

Our friendship goes back many years and together with Judy we shared many good times – picnics, special occasions such as 21st Birthdays, engagements , Christenings, children's Birthdays, and wonderful meals together cooked by Judy. We enjoyed watching our respective children grow up to be parents themselves
The most outstanding feature of Keith was his kind, gentle and easy to get on with nature.
Andy and I will always remember Keith as part of our life's journey and cherish our memories together.
Unfortunately health issues affect all of us So we are sending our love and condolences to all the family and are sorry we can't be there to say goodbye in person.
May everone find peace and comfort in the fact that they were part of Keith's life in some way.

Uncle Keith was always a constant in my life. Over the years I've been lucky to share some gentle times with him especially when he came to stay with us in the UK. Recently he reached out to me with great kindness and support which meant the world. Time to travel to his next destination surrounded by those loved ones who went before, xxx

I was introduced to Keith through his son Kirby, and I was looking forward to meeting him at the annual National Kendo championship with Kirby. He always had a smile on his face and was easy to talk to. It is very regrettable.
Rest in peace..