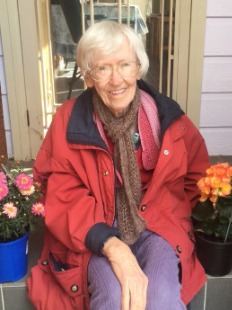 of Woonona, formerly of Carlingford
Passed away surrounded by loving family on Tuesday, 24th of October 2023. Beloved wife of the late Charles (Chic). Dearly loved mother and mother-in-law of Ailsa and Jonathan, Duncan and Kelly. Cherished Grandma of Brice, Lara, Julian, Sonia, Claire, and Kimberley. Ellen will be deeply missed by her loving family and many dear friends.
Aged 89 Years
Our memories of you
Will be treasured forever
Relatives and friends are invited to attend Ellen's funeral service to be held at H Parsons Funeral Home, 278 Princes Highway Bulli on Thursday, 2nd of November 2023 at 12pm.
The family requests that guests wear something bright coloured or floral to celebrate Ellen.
Service now available to stream
Date & Time
12:00 pm, Thu 2 November 2023
Venue
H Parsons Funerals, 278 Princes Hwy, Bulli, New South Wales 2516, AU
Funeral Director
H.Parsons Funerals
What a wonderful vibrant woman was our Ellen. She will be sadly missed by so many. Waltz on lovely Ellen

I loved your stories about farm life and you always had something interesting to say. You always said how it was and didn't mince your words. You will be missed by everyone you knew.

So many memories over a lot of years. You were a unique lady who will be sadly missed.

Dear Aunty Ellen, well your sister Olive Kathleen Dawson Moss / SHONE born 27/7/1932 and you born on the 31/7/1932. Your beautiful sister passed away into the arms of Jesus on Sunday 24/10/2023 and you passing away 4 weeks later on the 24/10/2023. Wow wow wow, you were always close and spent a lot of time growing up together and then away at boarding school PLC Armidale NSW for 2 wonderful years together. Mum so loved you, her little baby, bossy sister. Now your turn to rest in peace. 🙂 Please do not feel sad for us anymore, as we were all the richest having our mum reach 91 yrs 2 months, the only one to date of 8 children to go beyond 90years. The love she had in her humble life with her family, no amount of money can or could ever buy. 🙂

Olives RIP date should have been. 24/09/2023