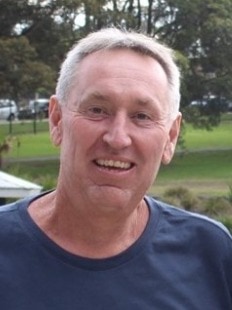 Passed away Thursday, 16th March 2023. Beloved husband of Anna-Marie. Dearly loved father of Kimberley, and Paul. Loved brother and brother-in-law of Grant, Joel and Linda, Cameron (dec) and Vickie, Carol and Len, Ian and Lisa. Damo will be sadly missed by his loving family and many dear friends.
Aged 58 Years
Forever in our Hearts
 Relatives and friends are kindly invited to attend Damo's funeral service to be held at Rankins Funeral Home, 270 Cowper Street Warrawong on Friday, 31st March 2023 at 2pm.
Date & Time
2:00 pm, Fri 31 March 2023
Venue
Rankins Funeral Home, 270 Cowper St, Warrawong, New South Wales 2502, AU
Dear Annamarie, Kimberley, Paul, Joel, Linda and Vickie, and your families,

It was so sad to hear about your loss of Damian, who was much loved by his extended family on the South Coast and in Sydney. His parents, Kath and Harry, were so proud of a fine son, brother, husband and father. Please know he is in our prayers and Masses as you all are in this most difficult time. His hospitality, humour and generosity to those in his family will be sadly missed but greatly cherished and remembered with gratitude.

With deepest sympathy
Pier Milanoli

Please also pass on our to condolences to his brother Grant when you see him. With love, Pier.

I'm very sorry Annmarie to hear the news of your tragic loss my love and prayers go out to you and your family xx

We are so sorry to hear about the loss of your dear Damian. Anna Marie, Kimberley, Paul, Grant, Joel and Linda, and Vicki, and their families are in our prayers and Masses. Deepest condolences,
Marie and Pier M

We are so sorry to hear about the loss of your dear Damian. Anna Marie, Kimberley, Paul, Grant, Joel and Linda, and Vicki, and their families are in our prayers and Masses. Deepest condolences,
Marie and Pier M