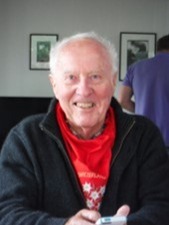 Passed away peacefully surrounded by loving family on November 4th, aged 92 years. Adored husband of Margaret Jeanette for fifty-five years and Margaret Nassie for twelve years. Beloved father and father-in-law of Philip and Alison, Bronwyn and David, David and Samantha. Cherished Grandpa of Ben and Kelsey, Joshua, Siobhan and Finn, and Great-Grandpa of Rayah, Gabriel and Asher.
Trusted to the arms of God
and the hope of the resurrection. 
A funeral service for Colin will be held at City Central Presbyterian Church, 33 Burelli Street, Wollongong on Friday, 17th November at 11am.
Service now available to stream
Date & Time
11:00 am, Fri 17 November 2023
Venue
City Central Presbyterian Church, 33 Burelli St, Wollongong, New South Wales 2500, AU
Funeral Director
H.Parsons Funerals
John and Helen Grant (nee Wadds)

Our sincere condolences. Remembered as a colleague and friend to Harry and family.