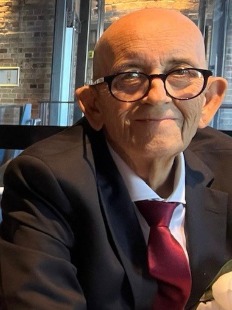 Christopher (Chris) Felvus
Passed away peacefully, surrounded by loving family on Wednesday, 15th March 2023. Beloved husband of Nevenka. Dearly loved father and father-in-law of Nicholas and Jess, Stephanie and Michael. Much loved soon to be Grandfather. Chris will be sadly missed by his loving family and many dear friends.
Aged 64 Years
A life well lived
Rest in Peace
 Relatives and friends are kindly invited to attend Chris' funeral service to be held at Rankins Funeral Home, 270 Cowper Street Warrawong on Wednesday, 22nd March 2023 at 10am.
Date & Time
10:00 am, Wed 22 March 2023
Venue
Rankins Funeral Home, 270 Cowper St, Warrawong, New South Wales 2502, AU
Dear Nev, my sincerest condolences to you and your family, may God grant you strength throughout these difficult times.🙏🏻💔Chris will be always loved and dearly missed.He was a wonderful person.May he rest in peace.🕊
Xxx

As an older brother you taught me so much,
What music to listen too (although we may not have agreed at the time) I was always ahead of the trend in school as I knew all the punk bands of the late 70's this gave me gave me an air of mystery and rebellion amongst my high school peers. (Or so I thought) I remember you helping me to spray my hair green ready for The Clash concert, all the while trying to avoid being caught by Mum and Dad,
You Taught me
How to be a grown up, you led the way into adulthood, and this made life easier for Matt and I, you showed the way. In those early years when boys become men a big brother and mentor is the upmost importance.
You taught me
When to question what life throws at us, when to buck the trends
You taught me
When to fight, when to stay quiet
By far the most important lesson you taught me has been over the past few months, with your grace under pressure and your ability to soldier on against the odds, to not make a fuss, to always go with the flow and protect others from your pain.
I found these words that I feel sum up your grace;

The grace of your last struggle
Never to cause fuss selfless to others
Your actions always kind,
A generous heart and an active mind,
Ready to please, loath to offend,
A loving brother, a faithful friend,
I love you and will miss you