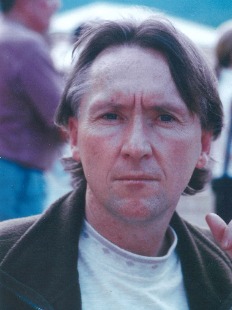 of Hammondcare Horsley, formerly of Wollongong
Passed away peacefully on Saturday, 15th of April 2023.  Son of Captain Bill Flanagan and Elizabeth Moyes (both deceased).   Loved brother and brother-in-law of Rod (dec), Maureen and Lionel, Colin (dec), Tina and Tim.  Loved uncle to Fred, Arthur, Lucinda, and Hugo.  Chris will be sadly missed by his loving family and many dear friends.
Aged 60 Years
Forever in our hearts
 Relatives and friends are invited to attend a funeral service for Chris to be held at H.Parsons Funeral Home, 34 Belmore Street, Wollongong on Saturday 22nd April 2023 at 10.30am.
Service now available to stream
Date & Time
10:30 am, Sat 22 April 2023
Venue
H Parsons Funeral Home, 34 Belmore St, Wollongong, New South Wales 2500, AU
Funeral Director
H.Parsons Funerals
A very dear friend ….just special….susanxxxxx

Rest, bonnie lad
In the cradle of my heart
Wrap yourself in my memories
A haven for my heart

And all your wicked laughter..
May it echo back to you
And give you endless joy…

The way yours did for many

Yes..rest bonnie lad
In the cradles of our hearts..

With all my special love,
Your big sister,
Maureen x

Chris was a gentle soul. A kind, considerate and loving man. He had a sneaky playful grin and a warm smile that was uniquely Chris.
You will be missed so much. Xxxooo
James

I always enjoyed catching up with Chris. His sharp wit and engaging warmth meant that you could roll on with a joke for sometime and then again at the next meet up. A gentle soul, an awesome talent. One in a million. What a loss. Dear Chris- you are greatly loved and will be equally as greatly missed. I shall join your life's celebration on the livestream.🧡

Chris was a friend a laugh and a talent. He gave us all many nights of great entertainment through his rock steady rhythm and flamboyant style. Chris and Col were a rhythm section without pier. He will be missed.

Dear Chris, you know I stand beside you…in the memory of all that was. I respect you – as the gentleman you always were in my regards. We lived hard times, and yet we were always able to laugh AND LAUGH and wry and grimace (side show clown faces) at the absurdity of it all. How absurd it all was, hey – and yet to became even, even more absurd. I'm happy you don't need to witness it further. I respect you. I am sorry for the years that followed our last encounter, but honestly I see you smile in my minds eye. You are now free of this mortal coil. Hanging with ya folk over there. Vale my friend. They now call you "A Legend" here. Ha ha. Yeh. Legends in our own times and in our own minds. The cups eventually fill-with and over xx

Today I say goodbye to someone who has truly enriched my life. At first I only knew Chris as an acquaintance but even then was impressed by his warmth and personality. Then we became best friends and with another friend I spent countless hours over several years at his place watching wrestling, chatting, and laughing up a storm; great days that will live with me forever. Chris was a gentle, caring, talented, intelligent and funny! person who I feel privileged to have known. Rest easy my sweet friend.

I remember the days of Visitor at the Ironworkers Club, CYSS Benefits, "Academy" Party Gigs and Trevor's mysterious kidnapping.
I remember Sing Sing in all their glory and the evolution of what became Man Bites Dog.
Dearest Chris, your drumming capabilities were a gift to the community of Wollongong and so many will never forget.
You were hardworking, kind and never egotistical. Such a gentle and funny soul, who loved and cared for his sisters and brothers when there was need.
May the Valkyrie descend to loud beats of Bonham and Moon and escort you to the dimension of pure love and light.
I will always love and never forget you.

Chris You and Belinda took me in under your wing as a young cranky queer punk and gave me encouragement to play music and be myself.. Thank you for your generous warm friendship and the fun times.. Xx 🤘

A life long friend you were Chris, and will be remembered. RIP MY frend

10 years of my life with you. I loved you dearly and was sad to leave. Chris taught me so much about life & love & kindness & compassion. His twinkle in his eye and his sense of humour were legendary. I was privileged to share a large portion of my life with him. It's a chapter of my life that was very informative & helped to mould the person that I am today. Goodbye my beloved Chrisby Dude, monkey man, Christos. May you rest in peace with your beloved family. I'll always think of you and the gifts you gave me fondly. It was my privilege to have been your partner for so long and I am honoured to have known you.

Chris Chris Chris,met you at 13 , convinced and corrupted you and Col to partake in an adventure.To enjoy a life of many ups and plenty downs,,and how to cope and carry on the good fight.I thank you so much for joining greg and I to change the World have fun ,be a silly Billy without pretention,only softness ,catchy monkey.You and Colin were and are the tightest original bass drum combo ever ,yous rhythm beat and timing,such magic that when on stage it
made me sooo into another dimension ,the power and and feeling ofl immortality..Sorry I won't miss you as you were and will be with me forever, always, nothing new in the World but you helped change much and love many Ta mate we called Pack O Day col was Stan Bach Greg was Bud Biderly and I Ken Materbe oh dear what a life